As a rider, when I see a bike with jerry cans in the carrier and rucksacks tied to the seat or someone wearing their riding jackets, that very moment leaves me with joyous feelings. It gives me an immense pleasure if any rider gets motivated after seeing us ride and wishes to join our Riding Club for Pleasure or for the betterment of the Community (Social Awareness Rides).
Routine
Today as per my daily routine I was with my friend on the Gedi on the streets of this Beautiful City-Chandigarh. As it's a festive season, therefore, all the markets are fully decorated with lighting's. After spending some time in market, to feast on some snacks we finally reached our favorite resting place, The Aroma, Sec-22 (Heart of Chandigarh City). While entering in the Restaurant, we didn't notice any bike. Once our bellies were filled, and to digest the food, we came outside and started swiftly walking and enjoying the mind blowing views of the shops. It is then I noticed this beauty waiting to catch someone's EYES, she was this – BMW GT, I could easily make out form her outlook that someone had taken a long ride. While admiring this beauty I noticed the registration plate which was not bearing and Indian Number. This did increased my curiosity and did raise my Blood Pressure as well because it was the first time for me that I was glancing at a bike from another country. Without giving it a second thought I anxiously sat there and waited for the owners of the bike.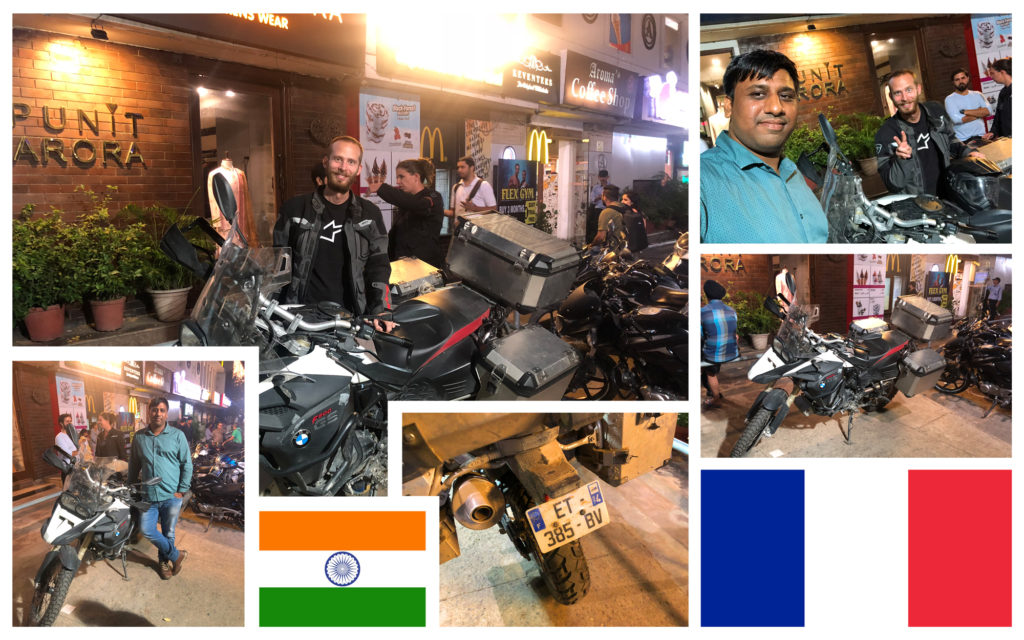 Meeting
To my Luck, within few minutes there comes a handsome couple in their riding uniform. I approached, Greeted and introduced myself to them. After exchanging pleasantries I came to know about Alex and his wife that they both hail from France and at that moment they were coming from Leh. They also informed us that they have been traveling on bike from past four months and they've covered almost 8 countries, and also have four more months of journey planned, in which they will be covering around 16 more countries.
As per them,They began their trip from City Lyon, France and then they crossed: Italia, Serbia, Croatia, Montenegro, Albania, Greece, Turkey, Iran and Pakistan. Then they entered India from Atari border also referred as Wagah Border (Amritsar). From Amritsar they started their journey towards Ladakh Valley. They took the Jammu route, covering Srinagar, Kargil Lamayuru, Leh, Nubra Valley, Pangong Lake, Pang and then came back via Manali. Unfortunately, while coming from Manali his wife met with an accident, by the grace of the Almighty it didn't turned out to be serious. But after that incident, there arose some glitches in the bikes, as she is a BMW, which does not have a good market presence in India. Therefore, they had to get their bike temporarily repaired at a local Royal Enfield. After reaching Chandigarh, they got the bike examined at the local BMW dealership. The worries didn't ended there, for the repairs some part of the bike needs to be imported and from past two weeks they are still waiting for the customs clearance. To expedite the process they did visited Customs office at Delhi as well, but there again was informed about another problem which needed to be rectified at Wagah Border from customs department, for which they again had to visit Amritsar. As of now, his wife's bike is still under repair. Once the bike gets repaired they will resume their journey to Kathmandu as planned. They also told us their future plan which included Cambodia as part of their journey. So far Since the beginning of their journey, they've covered almost 20,000 kilometers.
As per the "Atithi devo Bhava" upbringing, on courtesy sake We did ask them if we could be of any assistance, to which they happily acknowledged, So, without taking much of their time, we wished them good luck for their journey and Future It was an honor meeting them and what started with a little conversation gave us the opportunity to meet and know two blessed souls from different part of the WORLD.
The Highway Riders wish them All the best for the speedy recovery of their beautiful bike, their safe journey and also HOPE that they leave India with BEAUTIFUL MEMORIES.
Special Thanks: Avishek Puri & Kanwarinder Rana